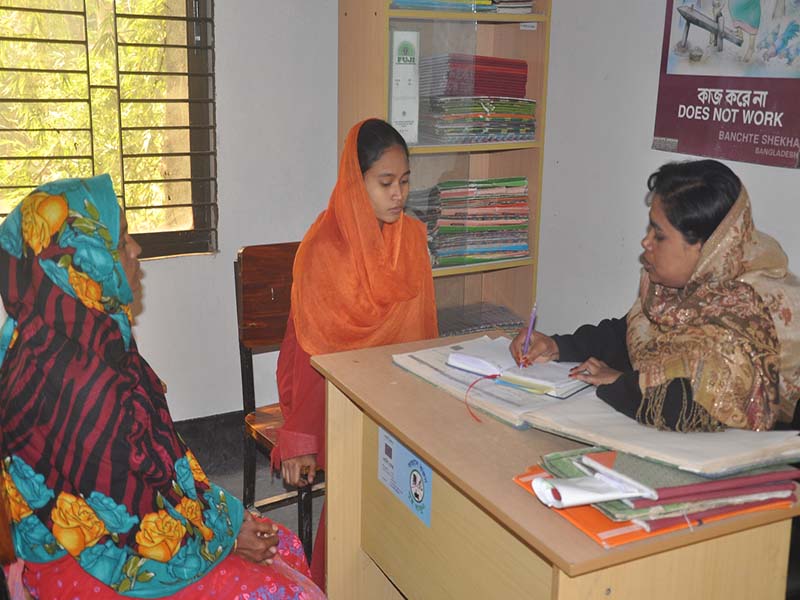 Combating Domestic Violence (CDV)
Project brief:
Different research shows that violence against women is vast in Bangladesh and the status of women is depriving, neglected and inferior to men. Men generally own and manage family land, income and women's labour. They suffer both on unequal legal status with regard to many important rights as well as an inferior positioning with regard to cultural believes and practices. Although the constitution of Bangladesh permits equal rights for women but in family matters such as marriage, divorce, inheritance and maintenance etc. laws plays a discriminatory role against women. Due to our indifferent attitudes towards women the accurate information regarding domestic violence, sexual harassment, rape, dowry and other types of violence remains unknown. A research has publicized that 80% rapist are set free due to unprofessional investigation. There is a consensus that more than 40% women face domestic violence and 19% have experienced of life threatening physical torture in Bangladesh. Yet there are few laws to protect women from discrimination but usually women are either unable or unwilling to seek legal redress in case of discrimination.
There are various legal provisions that can easily protect women from domestic oppression and violence but inactiveness of country laws lies in the fact, that both substantive and procedural laws are not gender sensitive. FAIR believes women empowerment through establishing and upholding their rights and dignity are two principal prerequisites for national development and the level of violence against women is directly related to the development process of the country. By considering the mentioned reality since 2004 it is implementing the mentioned project at 04 Union Parisad of Kushtia Sadar district in collaboration with BNWL with the financial support of Manusher Jonno foundation.
Project Goal
Reduce all sorts of domestic violence against women in the project area.
Major objectives
To create Change Agents to Prevent & Protect Domestic Violence at Community Level.
To make service providers more responsive in delivering quality services for the survivors of domestic violence.
Main action:
Raising voices against domestic violence

Community mobilization and awareness meeting
Theater show
Day observation

Creating Change agents to addressing Domestic Violence
Different community based committee formation and meeting
Moral class in School
Alternative Dispute Resolution (ADR)

Complaint received
Fact findings
Mediation/Shalish
Counsiliation

Case filed at Court
Victim rescued
Project duration:
April 2004-March 2013
Working areas: