Harijon's daughter Sima dreams of becoming a lawyer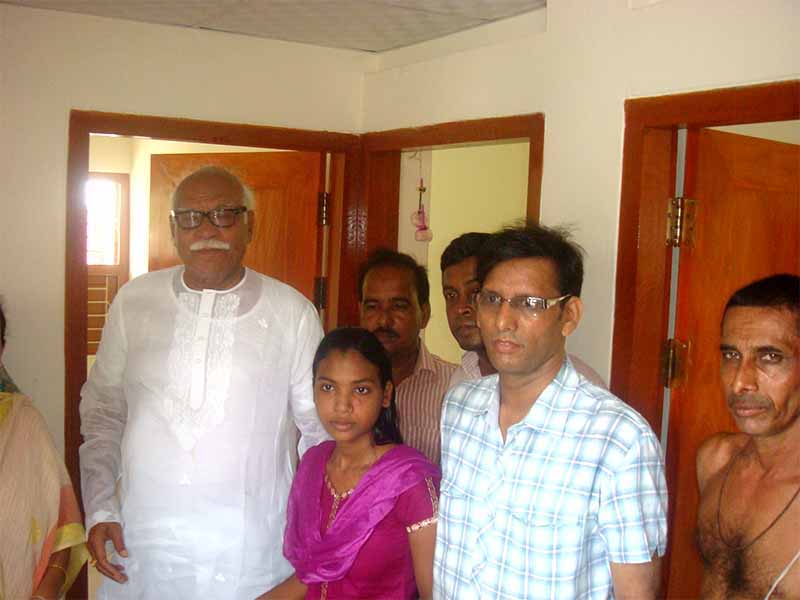 Harijon's daughter Sima dreams of becoming a lawyer: Harijon's daughter Sima'sdream is to study and become a lawyer and work for her community. Sima Rani Roy is the daughter of Zalim krisna and shanty Rani. Sima is junior among the six children of parents. She reads in class XI and wants to be a famous lawyer to serve for the development of the native nation. But it was impossible for her to materialize her dream as her father is a poor retired staff of Bangladesh Railway. He can't bear his daily expensive with the scanty pension. A girl of Harizon community will read in college or receive higher education that is not common to them. At the time of her stopping studies due to economical insolvency and social out look she meets with Sapon Kumer Kundu, the member of advocacy group of Fair at Ishordi, College teacher and the representative of daily Ittafaq at Ishordi in his college campus. After that her dream starts to be materialized.
Sima met at first with Sapon Kumer Kundu, the member of Advocacy group of Fair, in advocacy meeting at their colony 3 years ago. Then Sima was the student of class IX. Sapon Kundu could understand her problems. He went to their colony several times but forgot her. He becomes astonished to meet with her in college campus suddenly. He could not imagine that a girl of Harijon community can read in college.
Mr. Sapon spoke with Sima in the college campus. He understood her dream and problem. He collects other information about her family to write a report on the daily paper. It was published on the last page of daily Ittafaq on 21 December 2011 appealing for assistance to all to continue her Study.
The report draws the attention of honorable minister for jute ministry of the people's republic of Bangladesh govt. He wants to know about the report to Mr. Kundu. He also engaged Mr. Zakir Hossain, the UNO of Ishordi upazila to investigate it detail. The UNO informed the minister on the issue on 26 December 2011 that it is true. The honorable minister offered one lac taka to the A/C no. 34128383 Sonali Bank Ishardi Brach so that she can draw 3,000.00 per month for her education cost with the joint signature of Sima and UNO. The minister also support in building a house with 3 room  and other facilities for sima in the 3 katha land of Railway beside their colony by the cost of 8 lac taka. Except these mutual Bank has promised to provide 1000.00 (one thousand-Taka per month as education cost. Mr. Farook Hossain of Dhaka public library 1000.00 per month, Mr. Islam unwilling to disclose his address 1000.00 per month and Ishardi girls college will provide paper and books free of cost. Now the inhabitants of the colony and Sima are dreaming for the beautiful future. Sima has expressed her gratitude to the reporter and supporters and sought blessings to materialize her dream to become a renowned advocate to serve the nation. 
Harijon's daughter Sima dreams of becoming a lawyer