Relevance of Anti-discrimination Law at Sirajgonj
Relevance of Anti-discrimination Law: Anti-discrimination act is needed to establish the constitutional rights of the marginalized people. In order to create public opinion and create pressure on the policy level of the government, in association with FAIR and Manusher Jonno Foundation, Bangladesh Harijon Oikko Parishad arranged a national seminar on Relevance of Anti-discrimination Law to Establish Dignity of Marginalized People on 21 March, 2011 to observe International Elimination of Racial Discrimination Day.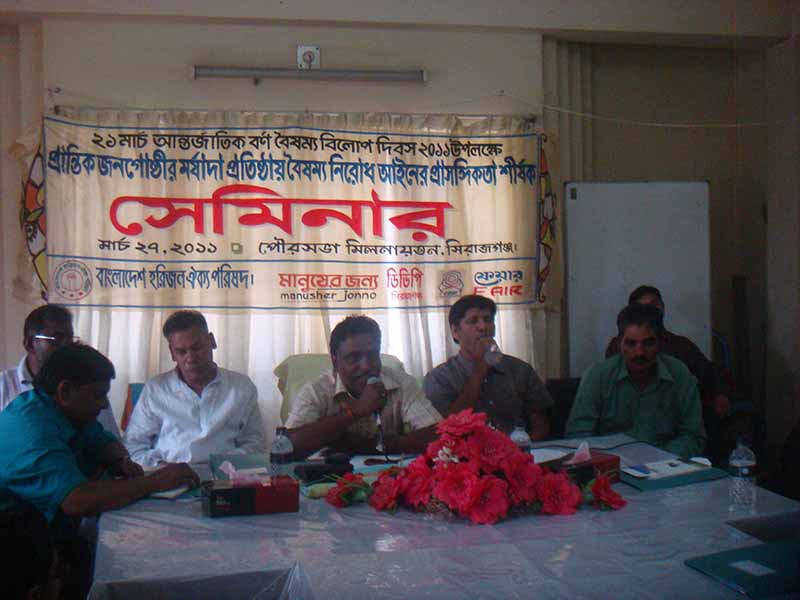 In the same form a seminar was held on the same topic in Sirajganj Municipality Conference Hall on 27 March, 2011. The seminar was launched with the welcome speech of Dewan Akhtaruzzaman, Director of FAIR.  Dewan Akhtaruzzaman in his speech described in details how the marginalized people are being discriminated. He also presented the perspective and objective of the seminar. Executive director of DDP, Sirajganj, Sohel Rana delivered greeting speech. Lima Khatun, Worker, ADD presented an essay in the seminar. She explained the definition of 'Disable' and described how they are harassed by their family and the society. Poet Professor Abu Sayeed Abubakar, Department of English, Sirajganj Govt. College, presented the main essay in the seminar. He described in his essay that artificial difference has been created between human beings. He upheld the anti-racial philosophy of different pundits.
After the presentation of the main essay, a discussion meeting was held. At the beginning of the discussion, Nirmol Chandra Das, General Secretary of BHOP, delivered speech. He said, Harijons didn't get the benefit of independence. Though the Harijon contributed to the achievement of independence, have still to operate movement after 40 years of independence for anti-discrimination law. He said, the Harijons are being deprived even of the job of cleaning service. Others don't want to receive services other than cleaning. He said, it is not possible to build up Digital Bangladesh excluding 5.5 million marginalized people. He alluded about the demands submitted to the Prime Minister.
Participating in the discussion, Adv. Farida Mukul said, schools has to be established for the Harijons. She said, the problems of the Harijons cannot be solved without proper education. Amirul Islam, former member of Shilpakala Academy, Sirajganj, said, some of the Harijons are going ahead and some of them advanced by dint of their merit. Merits of Harijon children have to be developed. Sazzad Hossen Sarkar, Assistant Director of Sirajganj Overseas Employment Department, said, those who work with cleaning job overseas are not Harijons, but they don't have problem regarding their dignity. He said, Harijons have to be educated and they have to attain technical skill. He promised to offer all kinds of support for overseas employment for Harijons. Sarkar Sarwar Hossen, teacher, said, there should have quota in school for admission of Harijon children. He proposed to exclude the word 'Harijon' from Bangladesh Harijon Oikko Parishad.
Representative of Sirajganj Protibondhi Spandan Shangstha, Al Amin participated in discussion and said, as a disable he had to face barrier everywhere. There is law for the welfare of disables, it is not in practice.
War Councilor Tajuddin said, everyone has to reach the goal through work. Harijon representative Ratan said, we don't have any social rights. We don't want to live in a separate area but to live among others with dignity. But the mainstream people don't want to sell land to us. If we adopt occupation other than cleaning, mainstream people don't receive our service.
Krishna Lal, president of Bangladesh Harijon Oikko Parishad, said, the marginalized people fall victim of discrimination at every step. He said, at work place, Harijons face humiliation.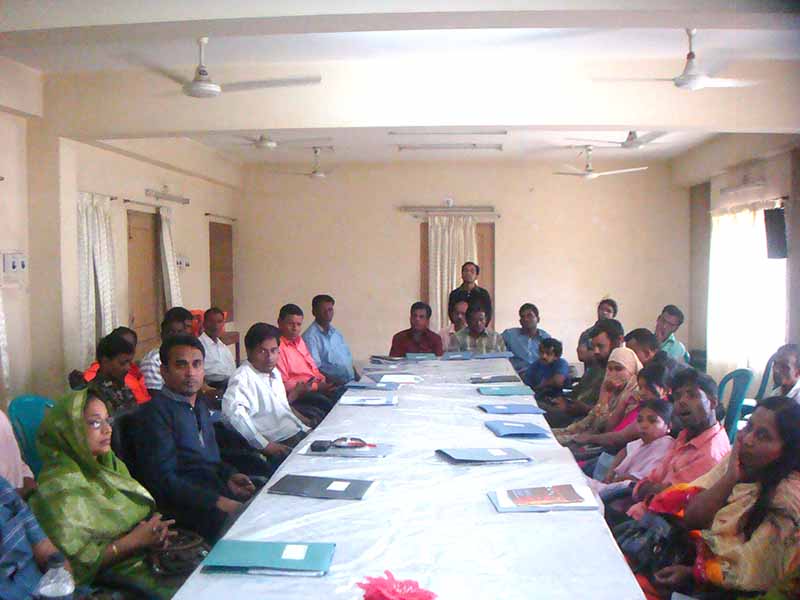 Mr. Mosaddek Ali, Mayor of Sirajganj Municipality and chief guest of the seminar said, Harijon shouldn't introduce them as sweepers. He promised to solve their problems of residence. He proposed to exclude the word, 'sweeper' from the name of the colonies. He said, proper education will bring freedom to the Harijons. He said, there is no separate cap in tea stall in Sirajganj for the Harijons. He asked to make the Harijon colonies drug free. He promised to solve problems of Harijons including increase of their salary.
Dilip Balmiki, president, BHOP, Sirajganj, presided over the seminar. The seminar ended with the concluding speech of the president. In his concluding speech Dilip Balmiki said, we receive a salary of BDT 600 from the Municipality and it is direly insufficient to run our family. He asked the mayor to increase salary. He thanked all and announced the end of the seminar. Relevance of Anti-discrimination Law